Asian Games 2023: Ten athletes to watch at Hangzhou 2022 in 2023
A year later than originally scheduled, the 19th Asian Games will finally take place this month in Hangzhou, People's Republic of China, from 23 September to 8 October 2023.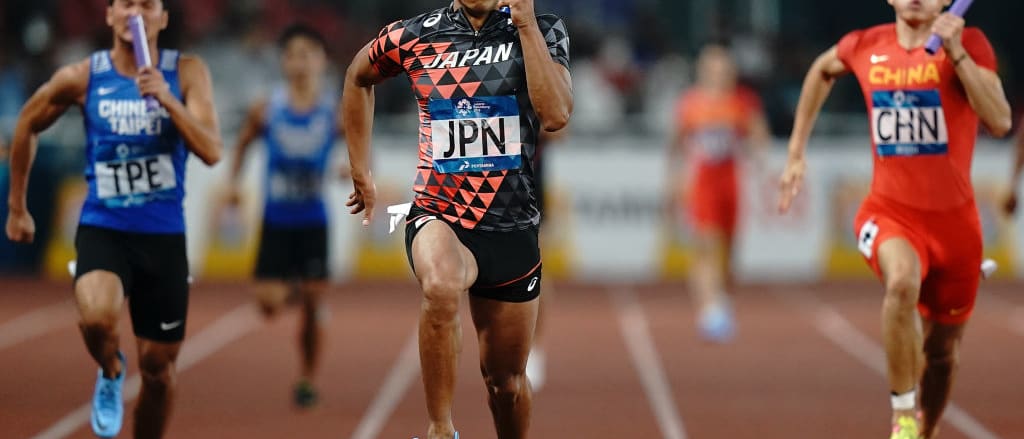 The Asian Games 2022 were postponed by a year due to previous pandemic restrictions in the host country, but now the continent's best athletes are ready to represent their nations in the biggest continental competition of them all, five years after they last did so at the 2018 edition in Jakarta and Palembang, Indonesia.
With many Olympic and world champions likely to be in action, Olympics.com picks out 10 athletes to watch in Hangzhou. This list is presented in alphabetical order by surname.
Asian Games Hangzhou 2022 in 2023: Preview, schedule and how to watch live
23 Sep - 8 Oct
Asian Games | Hangzhou - People's Republic of China
Mutaz Essa Barshim, Qatar (athletics)
Barshim had two big goals for 2023: the World Championships and the Asian Games. The joint Olympic champion won bronze at the Worlds, accomplishing the first part of his aim, as he became the first high jumper to win five medals at the World Championships and completed his set of gold, silver, and bronze.
Now, he turns his attention to the Asian Games, where he will aim to regain his title from 2014 after not competing in 2018. To do so, the Qatari opted to skip the Diamond League Final in Eugene, Oregon, USA, one of a number of Asian athletes who had qualified for the event who decided not to attend.
One of his big rivals in Hangzhou will be the Republic of Korea's Woo Sang-hyeok, who claimed the Diamond League crown in Eugene by equalling his own national record and personal best at 2.35m. Barshim, the Asian record holder (2.43m in 2014), has a season's best of 2.36m, so the contest between the pair is sure to be a close one.
Medal Moment | Tokyo 2020: Men's High Jump - ME Barshim (QAT)Neeraj Chopra, India (athletics)
The newly crowned world champion in the men's javelin throw will arrive in Hangzhou looking to retain his Asian Games crown he took five years ago in Indonesia.
Chopra, the first Indian to win World Athletics Championships gold and just the second from his country to claim an individual Olympic gold when he did so at Tokyo 2020 in 2021, actually arrives in Hangzhou off the back of a defeat.
He was one of the few Asian athletes to opt to compete at the Diamond League Final, where he was beaten into second by Jakub Vadlejch. His biggest challenge at the Asian Games will likely come from Pakistan's Arshad Nadeem, the 2018 bronze medallist who won silver at Worlds behind Chopra.
Why Neeraj Chopra is the perfect role modelHwang Sun-woo, Republic of Korea (swimming)
There looks to be an exciting match-up in the pool in Hangzhou in the men's 100m and 200m freestyle events featuring the hosts' Pan Zhanle and Hwang, a two-time World Aquatics Championships medallist over the longer distance.
Hwang, the 2022 world silver and 2023 world bronze medallist in the 200 free, came within two one-hundredths of a second of the Asian record with his swim in the final at Worlds in July, clocking a 1:44.41, the third-fastest time among all swimmers globally this year. Pan sits fourth on that list.
In the 100m, Pan is the Asian record holder in 47.22 seconds; Hwang's 47.78 fastest time from this year makes him the closest challenger to the home swimmer. It's sure to be a tantalising duel between both men.
Ikee Rikako, Japan (swimming)
Ikee had her breakthrough meet at the last Asian Games in 2018, where she won six gold and two silver medals and was named the winner of the Female MVP Award of the entire Games.
However, the Japanese swimmer was diagnosed with leukaemia in 2019, which set her back. She returned in 2021, qualifying for the Tokyo 2020 Olympics as part of Japan's 4x100m medley relay team. She then sat out the 2022 season, before returning at the World Championships earlier this year, where she made the final in the 50m butterfly.
Now back at the Asian Games, could this be the springboard for her to regain her top form and get back on the podium?
Kusaki Hinano, Japan (skateboarding)
The 15-year-old is the youngest athlete to make this athletes to watch list. Kusaki, a park skateboarder, is a Paris 2024 hopeful for Japan and has already picked up fourth-place finishes in both Olympic qualifying ranking events held to date.
This is Kusaki's national team debut, having never before represented Japan at a major championships. Known for the height of her 540 trick (one and a half rotations), Kusaki – the 2022 Japanese national champion – will head to the World Skateboarding Championships (Park) in Rome after the Asian Games.
"I will do my best and perform to the best of my ability. My goal is to win," she said of her Asian Games outing.
Pandelela Rinong Pamg, Malaysia (diving)
Malaysia's diving queen Pandelela has had a difficult year beset by injury and health issues. She will be looking to Hangzhou to turn her 2023 season – during which she has only competed twice – around.
Pandelela made her season debut in May at the 2023 Diving World Cup stop in Montreal, finishing ninth in both the individual 10m platform and mixed team events.
However, at a training camp in China in June ahead of July's World Championships in Japan, she picked up both illness and injury, which hampered her in Fukuoka. There, she surprisingly finished 24th in the individual platform event – missing out on the semi-finals for the first time in her career.
"Despite the setback, I will keep showing up and never give up. Because the lesson in the pool here may just be the perfect potion for what's going to happen in the future," she wrote on Facebook following that disappointment. Her first chance to right that wrong will come in China.
Sun Yingsha, People's Republic of China (table tennis)
The Asian Games singles title is one of the few honours Sun, the women's world number one, has not won in her career.
She has won Olympic and Youth Olympic gold in singles and team; World and Asian Championships gold in singles, doubles, mixed doubles, and team; singles and team World Cup crowns; and Asian Games gold in mixed doubles and team.
With just two Chinese paddlers entered in each singles event, Sun has arguably fewer tough challenges standing in her way, with teammate Wang Yidi the only other top-five player in the draw.
Hosts China dominate in table tennis, the country's national sport. Will Sun be the one to clinch women's gold?
Sun Yingsha: "A great athlete needs a healthy mindset"Kunlavut Vitidsarn, Thailand (badminton)
Kunlavut enters the Asian Games riding a wave of good form. The Thai world number two has had a monster last 18 months, culminating in his recent title win at the BWF World Championships.
The 22-year-old Thai played mostly on the second-tier BWF International Challenge circuit up till as recently as 2019, and had always been a promising youth player, winning three straight world junior titles from 2017 through 2019. But the step up to the seniors and World Tour events was complicated for him as the pandemic curtailed events across the globe.
After reaching the BWF World Tour Finals during the second pandemic-affected 2021 season, a runner-up finish at that event to Axelsen sparked a meteoric rise for the youngster.
The 2022 season was Kunlavut's breakthrough: he clinched his maiden World Tour title with a win in March at the Super 300-level German Open before winning Southeast Asian Games gold in Hanoi in May against the then-world champion Loh Kean Yew. The Thai then reached the 2022 World Championships final, where he lost, but 2023 brought more success with two World Tour titles before his Worlds triumph.
Zhang Boheng, People's Republic of China (artistic gymnastics)
With China having already qualified a team quota for Paris 2024, the hosts have chosen to send their full-strength artistic gymnastics team to contend for Asiad gold on home soil instead of the 2023 World Championships in Belgium, which overlap with the Hangzhou competition.
That means the 2021 world all-around champion Zhang, who took silver last year before gold at the World University Games earlier this year, will be the star attraction at the Huanglong Sports Centre Gymnasium.
Zhang (all-around) and the reigning Olympic, World Championships and Asian Games parallel bars champion Zou Jingyuan are favoured to clinch success in front of their home fans, with traditional Asian rivals Japan choosing to send their first-team to Antwerp for the world championships.
Read more