As Shah Rukh Khan returns with Pathaan, fan clubs book theatres to ...
From fans celebrating Pathaan release as Shah Rukh Khan day, an optimistic trade hoping the film will bring audience back to theatre and a bullish advance ...
Actor Shah Rukh Khan's comeback vehicle Pathaan has brought cheer to his fans and, it seems, to the box office. As per reports, the film has already earned over Rs 50 crore in advance bookings for the first week. The superstar has chosen an out-and-out action thriller in Pathaan and this can very much be the inception of SRK 2.0.
To understand the impact of SRK's comeback and what it means to the fraternity and his fans, we got in touch with one of his fan clubs, trade expert and exhibitors.
Yash Paryani, 26, represents SRK Universe, one of the most active fan clubs of SRK. When asked how they're preparing for the actor's comeback on the big screen, Yash shares, " It is nothing less than a festival. We always celebrate his releases like a festival, and with Pathaan he is making his big comeback after four long years so it is extra special. We have missed seeing him on the big screen and we are going to turn this into a big celebration. We have screenings planned in over 200 cities, even in Mumbai. We used to have one screening for each of his movies, but this time we are having six screenings. We have five screenings in New Delhi, four in Kolkata, three in Aurangabad. We are also doing first day first shows in smaller cities like Nanded, Aurangabad, so we have massive plans. The first fan show in Mumbai is at 9 am at Gaiety Galaxy in Bandra. This has never happened in more than 15 years. There are places where shows are starting as early as 6 am."
Fan clubs play an important role in spreading the buzz and euphoria for the stars and SRK Universe is no different. "We have booked over 50000 tickets all over India to catch the first day first show. But we are not limiting ourselves to only that, we are going to celebrate Pathaan Day on January 26, it will be Republic Day with Pathaan followed by Pathaan weekend. It is not just a day's affair, we are looking forward to celebrating this movie in the grandest manner. There's a lot of excitement," shares Yash.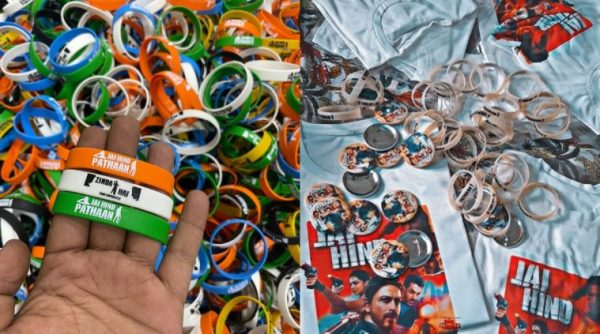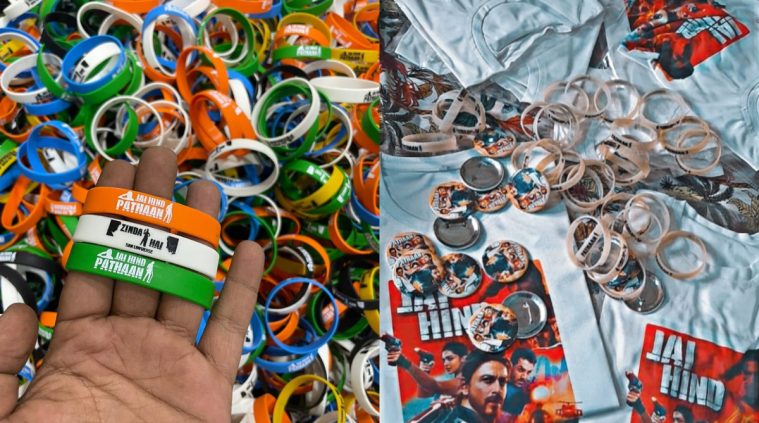 SRK Universe will be distributing Pathaan themed merchandise at the film's screening. (Photos: Yash Paryani/ SRK Universe)
SRK universe was founded in 2013 by a Maldivian citizen Muhammad Ashraf. Yash joined the fan club in 2014. The fan club drives SRK's fans to experience the star's films with more enthusiasm. "There will be the usual fanfare, we will have huge cutouts of SRK pasted on facades of several theatres. We have special Pathaan themed t-shirts, mobile covers, wrist bands designed for the fans. We wanted to go all out in terms of Pathaan merchandise.."
Multiplexes are also reporting enthusiastic response at ticket counters. Rajender Singh Jyala, the Chief Programming Officer at INOX Leisure Ltd, says, "The fantastic booking trends for Pathaan reiterate the significance and appetite for good quality content coming out from the Indian film industry. We are already seeing records breaking, the major one being the highest ever advance for any Hindi film. We are sure that the movie would live up to the tremendous hype that it has created. The entire country is looking forward to this much anticipated release, which is an absolutely encouraging sign, not only for the cinemas but for the entire film industry. This excitement augurs well for us, and we are sure that the content line-up in the near future would sustain this hysteria."
India goes berserk! A whopping 2.75 lakh #Pathaan tickets sold till weekend across all INOX cinemas in India! Do not miss the craze, book your tickets now for the biggest action blockbuster of 2023. JUST 2 DAYS FOR PATHAAN#PathaanAdvanceBookings #INOX #LiveTheMovie pic.twitter.com/eGs7plQ8c4
— INOX Leisure Ltd. (@INOXMovies) January 23, 2023
While the fans are rejoicing SRK's return to the big screen, and multiplexes are celebrating the humongous advanced bookings, film exhibitors and single screen cinema owners are worried because the film has faced its share of controversies and there is a worry that there may be cases of vandalism.
Manoj Desai, executive director of G7 Multiplex, Gaiety Galaxy and Maratha Mandir in Mumbai, shares, "There are two morning screenings tomorrow, one at Gaiety and another at Galaxy, both are from the fan clubs are house full. This is the first time I've booked screenings for fan clubs in the last 51 years."
Sharing his worry about miscreants, he says, "Booking for other shows in all my cinemas is around 80-90%, so I am seeing the excitement about the movie among SRK fans. Boycott wali baat bhi lambi chaudi chal rahi hai so I am very worried about how it will be tomorrow and over the weekend. Until everything is settled as there is no protection."
What does trade have to say about SRK's comeback vehicle? What does the film's performance at the box office means for the business of cinema. Girish Johar, producer and film business expert calls the buzz and booking "very critical". Johar says, "We are expecting a rocking start to 2023, coming from a very bad couple of years starting from the pandemic in 2020. Two years of Covid-19 lockdown and then a dud show in 2022, this film will not only boost the confidence level but also bring the excitement back within the fraternity and the audiences. It hopes to get the entire system back on track, so it is a very critical wheel in the entire scheme of things."
Do Read… #Pathaan box office prediction: Shah Rukh Khan comeback film to earn Rs 200 cr in first 5 days, provide momentum to Bollywood : @iamsrk @TheJohnAbraham @[email protected] @ieEntertainment https://t.co/mIne6z9MnN
— Girish Johar (@girishjohar) January 24, 2023
Johar also believes that a superstar doesn't take breaks, and their stardom is never questioned, hence the film will only soar SRK's future filmography. He says, "It is my personal opinion, I don't think stars take a break or a sabbatical. It is just like they want to rethink and come out with something fresh, take a gap or something like that. But it doesn't mean that his stardom has to be revived or that he has to become a new star. He is a huge star, a global star, they're releasing the film in more than a hundred countries globally, which completely speaks of his stature. Yes, he did take a break, but as far as his energy levels are there, we can all see from the trailer that the action is superlative. The film has a great star and a villain, both of them have a great screen presence and then there is Deepika Padukone, I don't think presently Bollywood has anything bigger than this to offer."
Johar says Pathaan has the potential to bring the film business back to "normal pre-Covid-19 times". He says, "If this film manages to break the mold, we can go back to normal times like 2018- 2019. This proves that the audience wants entertaining cinema, and SRK has used a smart strategy to promote this film. So it gives a lot of confidence to the fraternity. Then we have other films also lined up, so this film will make the audience return to theatres and break their casual OTT viewing habit."