England v Sri Lanka: third ODI – live!
Over-by-over coverage of the match played at Bristol, with England 2-0 up. Join Geoff Lemon and Tim de Lisle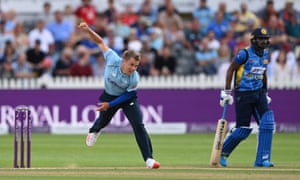 Key events
Show
12.39pm

BST

12:39

WICKET! Hasaranga c Willey b Tom Curran 20, Sri Lanka 87-6

12.09pm

BST

12:09

WICKET! Oshada Fernando c Woakes b Tom Curran 18, Sri Lanka 63-5

11.44am

BST

11:44

WICKET! de Silva c Rashid b Woakes 4, Sri Lanka 42-4

11.37am

BST

11:37

WICKET! Nissanka c Bairstow b Willey 6, Sri Lanka 33-3

11.26am

BST

11:26

WICKET! Avishka Fernando lbw Willey 14, Sri Lanka 29-2

11.12am

BST

11:12

WICKET! Kusal Perera b Woakes 9, Sri Lanka 19-1

10.50am

BST

10:50

Teams
Live feed
Show
12.58pm BST12:58
25th over: Sri Lanka 95-6 (Shanaka 10, Karunaratne 5) Starting to get into his groove is Karunaratne, taking two singles from this over. Willey has now bowled seven, taking 2 for 36. Woakes has bowled eight, 2 for 19. Between them, all a captain could ask for.
12.55pm BST12:55
24th over: Sri Lanka 92-6 (Shanaka 9, Karunaratne 3) Woakes continues. Again, five balls of Karunaratne on strike before he manages to find a single. He's basically a nightwatchman who arrived a day too late.
12.52pm BST12:52
23rd over: Sri Lanka 91-6 (Shanaka 9, Karunaratne 2) Both opening bowlers are back in operation now, David Willey partnering Woakes again. He keeps Karunaratne on strike until the penultimate ball of the over, where there's a tip-and-run single towards mid off. That's where Woakes is fielding, and he supports his bowling partner by getting in quickly and underarming down the stumps while diving, nearly getting a run out by a matter of inches on the replay.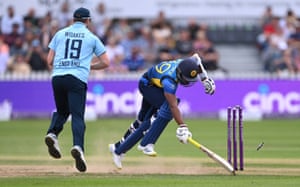 Updated at 12.57pm BST
12.45pm BST12:45
22nd over: Sri Lanka 89-6 (Shanaka 9, Karunaratne 1) Woakes is back, with four overs up his sleeve. Morgan wants to finish this game off. Inswing, away jag, keeps beating the edge, and Bairstow behind the stumps just throws his head back without a word. No run from the over.
12.43pm BST12:43
21st over: Sri Lanka 89-6 (Shanaka 9, Karunaratne 1) Now it's the turn of Chamika Karunaratne to try to build something with the bat. Did this job in the past two matches: 21 and 19 not out from down the order.
12.39pm BST12:39
WICKET! Hasaranga c Willey b Tom Curran 20, Sri Lanka 87-6
The short ball again. An innocuous one from a bowler who doesn't blow up the radar. Hasaranga keeps getting out like this, trying to pull when the ball is shoulder height and is outside the off stump. He has to come across the ball, meaning he's much more likely to mis-strike it. And does so again, top edge with a helping of toe out to deep square leg. See ya later.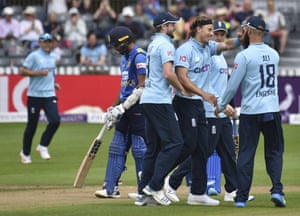 Updated at 12.49pm BST
12.35pm BST12:35
20th over: Sri Lanka 85-5 (Hasaranga 18, Shanaka 8) Sam Curran keeps trying to mix things up: a couple short, a couple going across. Gives up a wide and three singles.
Andrew Benton is local-ish. "Looking out of my window down to the southwest - from where the weather usually comes - I see a smorgasbord of dark clouds, light clouds and even a few small pockets of blue. The prognosis? They'll be off for rain at least half a dozen times. But it will be interesting to see how both sides cope with the added uncertainty."
Remarkably we still have play at Bristol. And now that Sri Lanka have crossed the threshold of 20 overs, there can be a DLS adjustment result as long as England get to face 20 overs at some stage today.
12.30pm BST12:30
19th over: Sri Lanka 81-5 (Hasaranga 16, Shanaka 7) A couple of shots coming now from Shanaka - a cut shot well saved for none, and a pull shot stopped by Rashid at long leg for two runs.
12.26pm BST12:26
18th over: Sri Lanka 78-5 (Hasaranga 15, Shanaka 5) Cat and mouse! Now Morgan does place a gully for Hasaranga, so the batsman pounds four through midwicket. Gets one just short enough from Curran for the shot, even though the angle took it well outside off stump.
12.23pm BST12:23
17th over: Sri Lanka 71-5 (Hasaranga 9, Shanaka 4) You wouldn't call this the excitement period. The current pair just trying to repair something. Tom Curran is bowling fairly straight, and between them they take three runs through the leg side.
12.18pm BST12:18
16th over: Sri Lanka 68-5 (Hasaranga 8, Shanaka 2) Another Hasuranga edge through gully from Curran, finding nobody. Jason Roy at point moves a bit further around. Three singles from the over.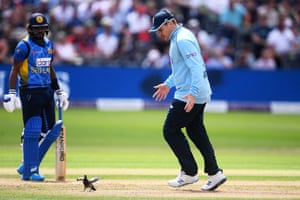 Updated at 12.32pm BST
12.14pm BST12:14
15th over: Sri Lanka 65-5 (Hasaranga 6, Shanaka 1) Dasun Shanaka in next, an all-rounder. Made 47 in the previous match, and has a few fifties across all formats for Sri Lanka. Has a big swipe first ball, but misses. Guides a single to deep third to follow up.
12.09pm BST12:09
WICKET! Oshada Fernando c Woakes b Tom Curran 18, Sri Lanka 63-5
Biiiig fart noise for that one. Clown car horn honking. Balloon deflating. Oshada Fernando is bored, wants to be done with this charade, so he tries to flog a ball over mid off and only chips it to the field.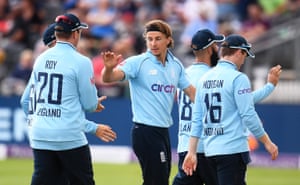 Updated at 12.16pm BST
12.06pm BST12:06
14th over: Sri Lanka 63-4 (Oshada 18, Hasaranga 5) Another big nick from Hasaranga this time, throwing his hands through Sam Curran's line and edging through gully. Morgan did have a cordon that might have snared that a few overs ago, but has economised to one slip since then. Oshada then decides to charge Curran, who sees him coming and bangs the ball in short. Oshada goes for it anyway, and top edges for six. Uncontrolled but it brings in the goodies.
12.03pm BST12:03
13th over: Sri Lanka 54-4 (Oshada 10, Hasaranga 4) Bowling Brothers time, then, with Tom Curran on from the Chris Woakes End. And even Tom Curran gets some swing in this over, which is about as common as avian dentistry. Right-armer's outswing to the right-hander, beating Oshada's edge once before taking a nick for a run from the next ball.
12.00pm BST12:00
12th over: Sri Lanka 50-4 (Oshada 8, Hasaranga 2) Get rid of one bendy left-armer swinging at the stumps, and bring in another bendy left-armer swinging at the stumps. Sam Curran replaces Willey, the smaller and younger version also getting the ball to shape and angling it across. Doesn't concede a run from his over to Oshada Fernando.
11.55am BST11:55
11th over: Sri Lanka 50-4 (Oshada 8, Hasaranga 2) Woakes has a lazy 2 for 18 after his first six overs. Still getting swing with the newish ball. The only thing not going the bowler's way is when Oshada Fernando flicks three runs through midwicket to reach the team 50.
11.50am BST11:50
10th over: Sri Lanka 45-4 (Oshada 5, Hasaranga 1) Three slips in for this Sri Lankan pair, with Willey angling the ball across hunting for that edge. Two singles and a wide are all that result from that over. The one beforehand, one run. Two overs before that, one leg bye. The over before that, one wide. So the over that went for 10 runs was the anomalous one in the last five overs, and even that one took a wicket as well.
11.45am BST11:45
9th over: Sri Lanka 42-4 (Oshada 3, Hasaranga 0) Wanindu Hasaranga has been asked to do far more work than he should have been on this tour, and here he is again: out to the middle before the overs hit double figures.
11.44am BST11:44
WICKET! de Silva c Rashid b Woakes 4, Sri Lanka 42-4
They're on the plane already. Woakes hasn't bowled a short ball yet today. First time, and with a fine leg waiting, de Silva goes full tilt at it anyway. Big top edge, all the time in the world for Rashid to wait under it, and he catches it in his breadbasket as comfortably as possible.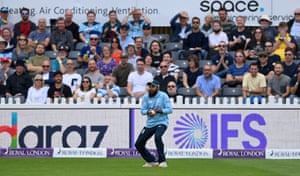 Updated at 11.52am BST
11.41am BST11:41
8th over: Sri Lanka 41-3 (de Silva 4, Oshada 3) Ten runs and the wicket from the over - Nissanka flicking two before he got out, the Oshada Fernando getting started immediately with a cover-drive for two and a leg-side chip for one, before de Silva jumps up and forces a shorter ball through cover for four.
11.37am BST11:37
WICKET! Nissanka c Bairstow b Willey 6, Sri Lanka 33-3
Willey set that up in classic style. Two deliveries swinging into the right-hander's pads, getting him playing to the leg side, then the one ball angling across with a scrambled seam, moving away just enough to draw an outside edge from a prod forward. England's opening bowlers dominating once again.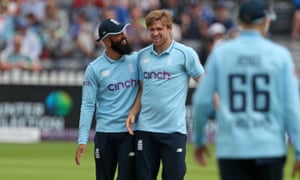 Updated at 11.41am BST
11.35am BST11:35
7th over: Sri Lanka 31-2 (Nissanka 4, de Silva 0) Morgan goes up for another review after Woakes loved an lbw appeal against Nissanka, but it struck him above the knee roll and was going well over. Not out. The leg bye from the ricochet is the only score from the over.
11.29am BST11:29
6th over: Sri Lanka 30-2 (Nissanka 4, de Silva 0) Willey ends his third over with 1 for 18. Dhanajaya de Silva is at the wicket after his excellent 91 in the previous match.
11.26am BST11:26
WICKET! Avishka Fernando lbw Willey 14, Sri Lanka 29-2
That surprises everyone! Willey bowls left-arm over with a fair bit of swing into the right-hander and hits him in front of leg stump. The umpire says not out, and even Willey doesn't seem that convinced as he chats with Morgan about a referral. They roll the dice anyway, and ball-tracking says that ball pitched comfortably in line, swung some, but not as much as it looked, and would have been hitting leg stump flush. The ball actually pitched near off stump in the end. Because Avishka had moved across a bit, it looked like it had pitched closer to leg and was hitting outside leg. Instead it had hit well in line.
You can tell that Willey didn't expect the wicket by his shout of celebration when DRS says he has it. The surprise is audible.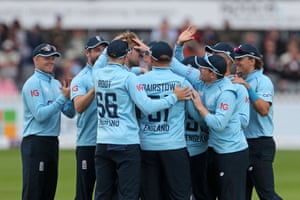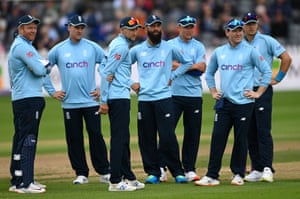 Updated at 11.32am BST
11.22am BST11:22
4th over: Sri Lanka 29-1 (Avishka 14, Nissanka 4) Good over from Woakes to Nissanka, who can't score. Woakes switching between the ball that moves away and the one that angles back in. Nissanka keeps taking a step across his stumps that makes him vulnerable to being hit on the pad. Woakes is hoping for that mode of dismissal.
11.20am BST11:20
3rd over: Sri Lanka 29-1 (Avishka 14, Nissanka 4) Willey bowls left-arm over, and gets the ball to hit the seam and go away from Avishka, just past the edge. The batsman then has his say, glancing two runs before driving four through extra cover. He's been very good through the off side already today.
11.14am BST11:14
3rd over: Sri Lanka 23-1 (Avishka 8, Nissanka 4) Pathum Nissanka ends up as a quasi-opener after all. Right-hander. Starts well, standing up tall and punching Woakes off the back foot through cover point for four.
11.12am BST11:12
WICKET! Kusal Perera b Woakes 9, Sri Lanka 19-1
Profit becomes loss. That wasn't down to the bowling, unless Woakes wanted to try his luck - he bowls wide and pretty full, and Perera just goes too hard at the drive. Doesn't get the line, inside edging it back onto his leg stump.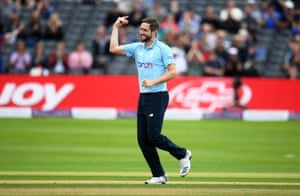 Updated at 11.21am BST
11.09am BST11:09
2nd over: Sri Lanka 19-0 (Avishka 8, Perera 9) Now it's Perera's turn for some runs, glancing David Willey to fine leg for four before whipping hard off his pads for three. The wet outfield really slows up that second shot on its long path to the boundary on the bigger side of the ground. A few singles as well, and Sri Lanka have made a profitable start.
11.05am BST11:05
1st over: Sri Lanka 8-0 (Avishka 7, Perera 1) I expected Nissanka to open but it'll be Avishka Fernando, one of four Fernandos in the team today. He starts well, too, driving Woakes through cover for four with a strong right hand, then clipping three off his legs. Rashid puts in a good long sprint to save the fourth.
10.50am BST10:50
Teams
Sri LankaKusal Perera *+Pathum NissankaAvishka Fernando Dhananjaya de SilvaOshada FernandoWanindu HasarangaDasun ShanakaChamika Karunaratne Binura FernandoDushmantha Chameera Asitha Fernando
EnglandJason RoyJonny Bairstow +Joe RootEoin Morgan *Sam BillingsMoeen AliSam CurranChris WoakesDavid WilleyTom CurranAdil Rashid
10.45am BST10:45
England win the toss and will bowl
We get to the toss without much waiting.
Eoin Morgan: "The decision is based on the weather that's around and potentially around this afternoon. We've got one change, Chris Woakes comes back into the side for Mark Wood. Tom Banton has played before, George is very new to the squad. When we look at players we tend to take a long-term view, and when an opportunity arises we try to give them a run. Rather than throw someone is who's just arrived from county cricket. Getting back into ODI rhythm was something the guys found challenging in this series."
Kusal Perera: "If we had have won the toss we would also love to bowl, but we can't do anything about that. We are expecting swing in bounce, in these kind of conditions it's always there, but we need to play a positive approach, and we also need to do the basics well. Badly we need a win, so we need to play positive cricket.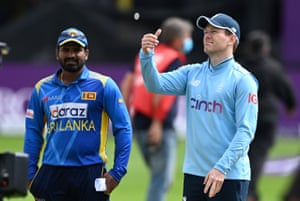 Updated at 10.50am BST
10.32am BST10:32
The toss is delayed
We were supposed be flipping the coin right about now, but showers have begun in advance of expectations down in Bristol. This be no weather for coin-tossin', yarr. Grab your umbrella and go for a lap around the block.
10.21am BST10:21
Get in touch
As ever, Tim and I will be agog to hear from you - our contacts are in the side / top panel.
10.21am BST10:21
Preamble

Geoff Lemon
Thus we come to one final chance for a pretty fragile Sri Lankan team to get a win on this tour to England. They got bowled out cheaply in one of the T20s and got choked out in the other two. Knocked over for nothing much in the first ODI, went a bit better in the second, but on neither occasion could hold England back in a run chase. This current team has the makings of a decent bowling outfit, all of whom tried hard, but the batting went from questionable to largely absent with three senior players sent home for breaching health rules.
England, on the other hand, have a settled and experienced spread of contributors in whom they have full confidence. Roy, Bairstow, Root, Morgan makes for reassuring reading for local supporters. With the series won, this match might be a chance for young players Tom Banton and George Garton to get a run.
Lots of rain forecast, too. We should get a couple of hours in at the start, but whether we'll get back on later in the day is anybody's guess. Expect overs to be reduced.